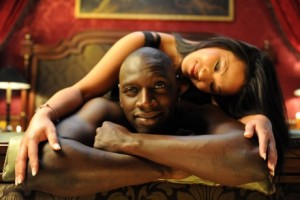 Since most Americans generally frown on foreign films particularly those with subtitles they will probably have to wait for the American remake of The Intouchables–the rights of which have been brought by The Weinstein Co. and probably now in the pipeline.  Those who wait do so at a loss.  The original is already the most watched film in France and quickly becoming an international box office hit having won the Tokyo International Film Festival best film award and the César Awards for best actor (the French equivalent to the American Oscar). Omar Sy is the first actor of African descent to receive a César for Best Actor.  The Intouchables is 2012's highest grossing move in a language other than English.  That says much to those who have traveled abroad and seen how American films dominate foreign cinema.
The Intouchables is based on a true story about the developing bond between a quadriplegic paralyzed from the neck down and an ex-con Black man who reluctantly becomes his caretaker.  The wealthy Philippe played by Francois Cluzet lives in a luxurious Parisian mansion.  Driss just out of prison from a six month robbery sentence shows up among a line of applying experienced white caretakers.  Driss is not there for the job but a for signature verifying that he applied, the signature evidencing he meets the requirements for state benefits.  But Philippe is drawn to Driss's magnetic unflappable rambunctious and unrefined personality luring him into taking the job.  Driss fights it every step away finally submitting to the mansion's comfort and riches.  Philippe introduces him to fine art and classical music while Driss in return offers lessons in American music through the sounds of Kool and the Gang and Earth Wind and Fire.
The employment relationship survives a 30 day probationary period overcoming the stress test sealing a bond, but the tests don't stop here.  Driss sets out on a constant quest to seduce Philippe's secretary while coping with Phillip spoiled brat daughter.  Driss too has his own handicaps.  His mother kicks out of the house and a not being there for a younger brother involved in drug activities takes its toll on family.  Then Driss discovers Philippe has a purely epistolary relationship with a German woman named Elenore and attempts to bring the pen-pal lovers together.  The employer and employee become buddies each instinctively knowing how to serve one another.
Driss' comedic quick witted response to white French bourgeois culture provides much of the stories comedic fodder.  And it is incredibly funny with great writing, great cinematography and a sublime soundtrack blending both European classical music and American R&B.
Without a doubt much of this film's success is attributable to Omar Sy's superb acting.  A minor accomplished French television actor Omar Sy is skyrocketing across the international screen with his portrayal of Driss.  Hollywood's new sought after hot talent was born in France to a Mauritanian mother and Senegalese father.  One of eight children he grew up in a housing project 20 miles west of central Paris.  Out of the housing project Sy similarly shares much with his character Driss.  As quoted in the The Los Angeles Times [h]e speaks knowingly of "two Frances"–the stratum of the country that is wealthy and has access to the arts and the largely immigrant working class that does not. "The thing about this movie," he said proudly, "is that it brought them together. People from one France came to the theater not knowing anything about the other France and they left having learned a lot, having sat together and laughed at the same jokes."
Variety critic Jay Weisberg wrote a searing review calling it racist describing Driss as a performing monkey and "jolly house slave of yore, entertaining the master while embodying all the usual stereotypes about class and race."  As a Black man daily experiencing the vestiges of slavery and global racism first hand I was nevertheless thoroughly entertained.  To Weisberg I say lighten up and laugh quoting Victor Hugo Laughter is the sun that drives winter from the human face.