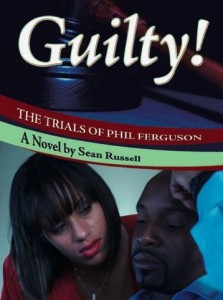 If you like books where the villain gets properly screwed in the end then Sean Russell's Guilty is for you. This endorsement is not intended as a spoiler but a warning that the read is a journey well worth traveling to that end. Sean Russell's debut novel is set in his native Barbados. It's the story of Phil Ferguson a happily married attorney who seems to have it all, and that's a problem. Phil Ferguson's nemesis Jimmy Cadogan is use to having what he wants, and he wants Ferguson's wife and the family business's lucrative contracts. Jimmy Cadogan is no ordinary villain but a despicable larger than life character that goes to no end to achieve his purpose. He anchors his great yacht in the harbor where nightly orgies play out. His personal character is as reprehensible as his undesirable looks. Jimmy Cadogan, gets his comeuppance in the end both literally and figuratively.
Sean Russell skillfully paints a picture of island life with a supporting cast of quirky characters. However the reader learns quickly all is not well in paradise when the enraged Phil Ferguson discovers his wife Jade's infidelity and seeks out counsel from his livelong friend Teddy, a somewhat bohemian islander living a self sufficient lifestyle. Teddy is a loyal friend ready to go to battle for Phil and has on more than one occasion saved Phil from making life possible catastrophic mistakes. Tit for tat in a scheme orchestrated by Cadogan, enter the beautiful international haute couture runway model Amanda Calendar leaving Phil Ferguson to contend with his own infidelity. Guyanese born and of modest means Amanda Callender makes the best of her beauty using it to climb to fame and fortune while exerting her feminine wiles to control men. She also learned how to protect herself from the very same men. Except one man, Phil Ferguson becomes her weakness leaving her in his presence defenseless and unable to resist their mutual longing and lustful urges for which there are consequences.
There are a host of other compelling characters like Phil's doting father applying every means possible to help his son. There is a good cop Detective Mobert Clarke whose efforts to get to the bottom of things are thwarted by bad cop Detective "Pastor" Seale. And then there is Jackie, Amanda's beautiful model friend who makes a late cameo appearance showing up in Barbados packing a hidden weapon that unravels all of Jimmy Cadogan's best laid plans. The ending is shocking, unsettling and almost incompressible. No doubt that's Sean Russell's plan setting the reader up for more Phil Russell and Jimmy Cadogan capers.
In Guilty Cadogan gets his just deserts which may amount to nothing more than a mere set back. We are left with the expectation that the defeated Jimmy Cadogan will rise again. Guilty is a delightful read that will leave you wanting more. Five stars.