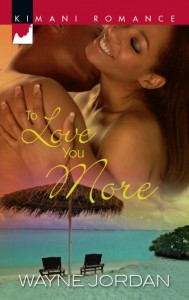 To Love You More is a story of second chances.  Wayne Jordan's latest title is set in his native Barbados.  A high school romance is sparked when the young George Simpson finds himself attracted to the studious and gifted Rachel Davis.  Muscular and ruggedly sexy George is a skilled player both at cricket and romance.  So skilled he's known to provide mind blowing sex without coital contact.  Aware of his reputation Rachel has every intention of avoiding the snare of his romantic overtures.
George falls in love and Rachel is unable to resist his persistent pursuit.  She is forced to casts aside her best laid plans.  Together they plan for a future setting their ambitions on becoming attorneys, marrying and raising a family.  Rachel travels to London for college and law school while George pursues his legal studies close to home in the Caribbean.  For a while the long distance romance works with the two reuniting during breaks.
As their long held plans to marry are about to materialize George is faced with a career changing opportunity to pursue a graduate fellowship abroad.  He then reconsiders marriage while Rachel faces her own dilemma.  The relationship ends as most do where there is lack of communication and trust.  Rachel releases George from his matrimonial promise allowing him to pursue his dream.  She in turn enters into a marriage of convenience to another.
12 years later Rachel a widow returns to Barbados where George is successfully practicing law.  An accomplished attorney in her own right she finds herself as opposing counsel in a high profile case.  Feelings that long lay fallow are reawakened and old wounds are reopened.  The two must somehow come to terms on whether to take a second chance on love.
In To Love You More Wayne Jordan proves to be as skilled at arousal and satisfaction as his character George.  It's a hot and steamy romance.  Then again I should have expected no less.  Wayne Jordan is the consummate romance writer who s brings to life the hearts and minds of fictional characters romantic entanglements as few can.  In his 2011 novel Saved by Her Embrace his character Sandra Walters earned him a Romance Slam Jam's  Heroine of Year Emma Award nomination.  To Love You More may very well be a 2012 Emma contender.  5 Stars