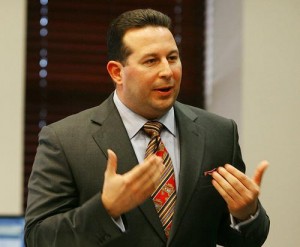 Jose Baez's defense of Casey Anthony has not been in the client's best interest, the Bar's legal standard under the Code of Professional Responsibility.  Baez's representation has been more self serving, and as one blogger commented Mr. Baez is as criminally minded and as simple as his client. The law requires that an advisor act solely in the best interest of the client, even if that interest is in conflict with the advisor's financial interest. Casey Anthony is a pathological liar, and if the defense team were smart, they could/would encourage her to confess and hope for a little leniency. What we have seen in recent weeks are desperate attempts to muddy the waters with trial by ambush tactics, allegations relating to paternity tests, incest, and an implausible drowning. Jose Baez is not only trying his case, but the court's and the public's patience as well, hence Saturday's in court session.
As reported by ABC News Baez was admitted to the bar with a checkered past and has since risen from unknown local attorney with no death penalty experience to national prominence in a high stakes life or death trial. Admitted to practice in 2005, he was denied admission to the bar for eight years. According to the Supreme Court of Florida he was denied admission because of his failure to pay child support to his ex-wife and secure life and health insurance for his teenage daughter. It states that he had previously declared bankruptcy, written bad checks and defaulted on student loans, the court said.
Casey Anthony was declared indigent after Jose Baez revealed he had blown over $250,000 received on Casey Anthony's behalf – $200K of which was paid by the "American Broadcasting Company" as "licensing fees" for Casey Anthony's "pictures."
The Florida Supreme Court said his financial mishaps coupled with failure to pay child support "show a lack of respect for the rights of others and a total lack of respect for the legal system, which is absolutely inconsistent with the character and fitness qualities required of those seeking to be afforded the highest position of trust and confidence recognized by our system of law."  A lack of respect continues in the recent desperate red herring defense strategies and behavior likely to draw contempt citations at the trials end.  Baez's conduct from the very beginning has been highly suspect and not in the client's best interest.